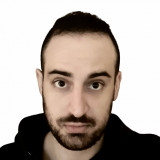 Postdoctoral Researcher
9 Heroon Polytechneiou, Zographou Campus
Vasileios Leon holds a PhD in Electrical & Computer Engineering from National Technical University of Athens and a Diploma in Computer Engineering & Informatics from University of Patras. He is currently a Research Associate at National Technical University of Athens, working on research & technical projects of the European Space Agency (ESA). His research interests include digital circuit design, hardware accelerators, embedded systems, HW/SW co-design, reconfigurable architectures, approximate computing, computer arithmetic, digital signal processing.
He has participated in the following ESA projects as researcher & developer:
QUEENS1 (4000119331/17/NL/PS), "Quality Evaluation of European New SW for BRAVE FPGA",

LEOTOME (4000126083/18/NL/FE), "Demonstration of Visual Based Navigation Algorithms on Myriad2 Processor".

QUEENS2 (4000128041/19/NL/AR/va), "Quality Evaluation of European New SW for BRAVE FPGA"

HPCB (AO/1-9440/18/NL/AF), "FPGA Accelerated DSP Payload Data Processor Board".

QUEENS3 (4000134874/21/NL/AR/va): "Quality Assessment Of The New European Ultra BRAVE FPGA Software Tools"

CAIRS21 (4000135491/21/NL/GLC/ov): "COTS AI Accelerators in Mixed-Criticality High-Performance Avionics for Reconfigurable Satellites: TPU versus Prominent Embedded Devices, Mitigation Techniques, SW Frameworks and AI/ML Model Uploading".
He has published more than 25 papers in international peer-reviewed conferences and journals (including first authorship in 3 IEEE and ACM Transactions journals and 1 DAC conference paper).
He has also served as a laboratory assistant in undergraduate courses ("Microprocessors Laboratory", "Digital VLSI Systems", "Introduction to VLSI"), as well as he has provided assistance and guidance in several undergraduate diploma theses.
Journals

Design Space Exploration on High-Order QAM Demodulation Circuits: Algorithms, Arithmetic and Approximation Techniques

Electronics

Walking through the Energy-Error Pareto Frontier of Approximate Multipliers

IEEE Micro DOI: 10.1109/MM.2018.043191124

Energy-efficient VLSI implementation of multipliers with double LSB operands

IET Circuits, Devices and Systems, 2019, DOI: 10.1049/iet-cds.2018.5039

Approximate Hybrid High Radix Encoding for Energy-Efficient Inexact Multipliers

IEEE Transactions On Very Large Scale Integration (VLSI) Systems, 26 (3), 2018 DOI: 10.1109/TVLSI.2017.2767858
Conferences

ApproxQAM: High-Order QAM Demodulation Circuits with Approximate Arithmetic

2021 10th International Conference on Modern Circuits and Systems Technologies (MOCAST)

Efficient support vector machines implementation on Intel/Movidius Myriad 2

2018 7th International Conference on Modern Circuits and Systems Technologies, MOCAST 2018 DOI: 10.1109/MOCAST.2018.8376630

David Gonzalez-Arjona ,
R. Domingo ,
A. Pastor ,
D. M. Codinachs and
I. Conway

Evaluation Methodology and Reconfiguration Tests on the New European NG-MEDIUM FPGA

2018 NASA/ESA Conference on Adaptive Hardware and Systems, AHS 2018, DOI: 10.1109/AHS.2018.8541492

TF2FPGA: A Framework for Projecting and Accelerating Tensorflow CNNs on FPGA Platforms

2019 8th International Conference on Modern Circuits and Systems Technologies, MOCAST 2019, DOI: 10.1109/MOCAST.2019.8741940

Cooperative arithmetic-aware approximation techniques for energy-efficient multipliers

Proceedings - Design Automation Conference, 2019, DOI: 10.1145/3316781.3317793

Combining arithmetic approximation techniques for improved CNN circuit design

ICECS 2020 - 27th IEEE International Conference on Electronics, Circuits and Systems, Proceedings, DOI: 10.1109/ICECS49266.2020.9294869
Neural Networks on Heterogeneous VPUs

Porting a framework for Heterogeneous VPUs to RISC-V many-core systems

Framework Design & Applications for Heterogeneous VPUs

Source to Source Compilation Tool for Heterogeneous VPUs

Implementation of Approximate Convolutional Filters and Floating-Point Components for CNN Applications

Implementation of RISC-V Customized Architectures on FPGA Platforms

Customized Redundancy Schemes for Improved Fault-Tolerance of FPGAs in Space Applications

Application of Approximate Computing Techniques on the NVIDIA Deep Learning Accelerator (NVDLA)
Neural Networks on Heterogeneous VPUs

Porting a framework for Heterogeneous VPUs to RISC-V many-core systems

Framework Design & Applications for Heterogeneous VPUs

Source to Source Compilation Tool for Heterogeneous VPUs

Implementation of Approximate Convolutional Filters and Floating-Point Components for CNN Applications

Implementation of RISC-V Customized Architectures on FPGA Platforms

Customized Redundancy Schemes for Improved Fault-Tolerance of FPGAs in Space Applications

Application of Approximate Computing Techniques on the NVIDIA Deep Learning Accelerator (NVDLA)