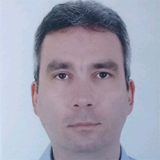 Postdoctoral Researcher
9 Heroon Polytechneiou, Zographou Campus
Dr Lentaris holds a PhD in Computing from the National & Kapodistrian University of Athens (NKUA), Greece, as well as two MSc degrees in "Logic, Algorithms, and Computation" and in "Electronic Automation", with a BSc in Physics, all awarded by NKUA. His PhD research (conducted during 2006-2011 at the Electronics lab, DST, Physics dpt) resulted in the thesis entitled "Parallel Architectures and Algorithms for Digital Signal and Image Processing", which contributes in organizing parallel memories for graphics applications and designing motion estimation architectures for video compression.
The research interests of dr Lentaris are, mainly, in parallel algorithms and architectures for applications in signal and image/video processing. His work focuses on digital circuit design and it includes computer vision algorithms, feature extraction, hyperspectral imaging, H.264/AVC encoding, motion estimation techniques, 1D/2D signal interpolation and filtering, OFDM synchronization and baseband processing, FFT implementations, parallel memories organization, as well as process variability and reliability of FPGA devices (incl. radiation testing).
Currently, he is a research associate at Microlab, NTUA, GR, working on high performance embedded computing. More specifically, his work includes HW/SW co-design of computer vision to enhance autonomous rover and/or spacecraft navigation. He is using single-/multi-/SoC-FPGA and DSP platforms to accelerate stereo vision, visual odometry, and pose estimation of uncooperative targets for future missions of ESA. Additionally, he is working on the FPGA implementation of baseband DSP algorithms for novel 5G network technologies.
Personal Webpage: http://users.uoa.gr/~glentaris
Book Chapters

Aging Evaluation and Mitigation Techniques Targeting FPGA Devices

Low-Power Circuits for Emerging Applications in Communications, Computing, and Sensing, DOI: https://doi.org/10.1201/9780429507564
Journals

Design Space Exploration on High-Order QAM Demodulation Circuits: Algorithms, Arithmetic and Approximation Techniques

Electronics

F. Di Capua ,
L. Campajola ,
A. Constantino ,
Gianluca Furano ,
A. Tavoularis and

TID evaluation system with on-chip electron source and programmable sensing mechanisms on FPGA

IEEE Transactions on Nuclear Science, 2019, DOI: 10.1109/TNS.2018.2885713

Xenophon Zabulis and
Manolis Lourakis

Single- and multi-FPGA acceleration of dense stereo vision for planetary rovers

ACM Transactions on Embedded Computing Systems, 2019, DOI: 10.1145/3312743

In-the-Field Mitigation of Process Variability for Improved FPGA Performance

IEEE Transactions on Computers, 2019, DOI: 10.1109/TC.2019.2898833

Ioannis Stamoulias ,
Manolis Lourakis and
Xenophon Zabulis

High-Performance Vision-Based Navigation on SoC FPGA for Spacecraft Proximity Operations

IEEE Transactions on Circuits and Systems for Video Technology, 2020, DOI: 10.1109/TCSVT.2019.2900802

K. Kanta ,
A. Pagano ,
E. Ruggeri ,
M. Agus ,
R. Mercinelli ,
C. Vagionas ,
P. Toumasis ,
D. Apostolopoulos ,
N. Pleros ,
Hercules Avramopoulos

Analog fiber-wireless downlink transmission of IFoF/mmWave over in-field deployed legacy PON infrastructure for 5G fronthauling

Journal of Optical Communications and Networking, 2020, DOI: 10.1364/JOCN.391803

Odysseas Papanikolaou ,
Manolis Lourakis ,
Xenophon Zabulis ,
David Gonzalez-Arjona and
Gianluca Furano

High-Performance Embedded Computing in Space: Evaluation of Platforms for Vision-Based Navigation

Journal of Aerospace Information Systems, Feb. 2018 DOI: 10.2514/1.I010555

Panagiotis Kontzilas ,
Christos Spatharakis ,
Stefanos Dris ,
Paraskevas Bakopoulos ,
Hercules Avramopoulos and

A Flexible, High-Performance FPGA Implementation of a Feed-Forward Equalizer for Optical Interconnects up to 112 Gb/s

Journal of Signal Processing Systems, 26 November 2016 DOI: 10.1007/s11265-016-1201-y

Ioannis Stamoulias ,
Manolis Lourakis

HW/SW co-design and FPGA acceleration of visual odometry algorithms for rover navigation on Mars

IEEE Transactions on Circuits and Systems for Video Technology, Volume: 26, Issue: 8, Aug. 2016

I. Kostavelis ,
Lazaros Nalpantidis ,
Evangelos Boukas ,
Marcos Avilés Rodrigálvarez ,
Ioannis Stamoulias ,
Dionisis Diamantopoulos ,
Antonios Gasteratos

SPARTAN: Developing a Vision System for Future Autonomous Space Exploration Robots

Journal of Field Robotics, Special Issue: Special Issue on Space Robotics, Part 2, Volume 31, Issue 1, pages 107– 140, January/February 2014
Workshops

Panagiotis Kontzilas ,
Christos Spatharakis ,
Stefanos Dris ,
Paraskevas Bakopoulos ,
Hercules Avramopoulos and

A Real-Time, High-Performance FPGA Implementation of a Feed-Forward Equalizer for Optical Interconnects

in 10th HiPEAC Workshop on Reconfigurable Computing, January 19th, 2016, Prague

Dionisis Diamantopoulos ,
Panagiotis Galiatsatos ,
Athanasios Karachalios ,
Dionysios Reisis and

A Reconfigurable Baseband Architecture for Gbps Wireless 60 GHz Communications

in DEPCP Friday Workshop,held in conjunction with the DATE 2013 Conference

Dionisis Diamantopoulos ,
Ioannis Stamoulias ,
I. Kostavelis ,
Evangelos Boukas ,
Lazaros Nalpantidis ,
Antonios Gasteratos

SPARTAN: Efficient Implementation of Computer Vision Algorithms for Autonomous Rover Navigation

in Workshop on Reconfigurable Computing (WRC), January 21, 2013, Co-located with HiPEAC Conference 2013, Berlin, Germany

An FPGA implementation of SURF algorithm for the ExoMars programme

in Workshop on Reconfigurable Computing (WRC), January 21, 2013, Co-located with HiPEAC Conference 2013, Berlin, Germany

Dionisis Diamantopoulos ,
Marcos Avilés Rodrigálvarez

Towards Accelarating Computer Vision Algorithms Targeting to Space Applications with a Heterogeneous Platform

in DATE 2012 Friday Workshop on Designing for Embedded Parallel Computing Platforms: Architectures, Design Tools, and Applications (DEPCP 2012), Dresden, Germany, March 12- 16, 2012
Neural Networks on Heterogeneous VPUs

Porting a framework for Heterogeneous VPUs to RISC-V many-core systems

Framework Design & Applications for Heterogeneous VPUs

Source to Source Compilation Tool for Heterogeneous VPUs

Implementation of RISC-V Customized Architectures on FPGA Platforms

Customized Redundancy Schemes for Improved Fault-Tolerance of FPGAs in Space Applications

Convolutional Neural Networks for image processing on FPGA platforms
Neural Networks on Heterogeneous VPUs

Porting a framework for Heterogeneous VPUs to RISC-V many-core systems

Framework Design & Applications for Heterogeneous VPUs

Source to Source Compilation Tool for Heterogeneous VPUs

Implementation of RISC-V Customized Architectures on FPGA Platforms

Customized Redundancy Schemes for Improved Fault-Tolerance of FPGAs in Space Applications

Convolutional Neural Networks for image processing on FPGA platforms