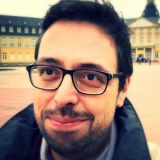 Aristotle University of Thessaloniki (AUTH), Thessaloniki, 54124, Greece.
Kostas Siozios received his Diploma, Master and Ph.D. Degree in Electrical and Computer Engineering from the Democritus University of Thrace, Greece, in 2001, 2003 and 2009, respectively. Currently he is Assistant Professor at Department of Physics, Aristotle University of Thessaloniki, Greece. His research interests include system orchestrators, CAD algorithms, reconfigurable architectures, many-accelerator architectures, 3-D integration and network-on-chip. He has published more than 140 papers in international journals and conferences. Also, he has co-editor/co-author in 10 books of Springer, CRC Press
and River Publishers. He is IEEE member for 10 years. The last years he works as principal investigator in numerous research projects funded from the European Commission (EC), European Space Agency (ESA), as well as the Greek Government and Industry.
Books

CyberPhysical Systems: Decision Making Mechanisms and Applications

River Publishers 2017

Konstantinos Tatas ,
A. Jantsch and

Designing 2D and 3D Network-on-Chip Architectures

ISBN 978-1-4614-4273-8
Book Chapters

Aging Evaluation and Mitigation Techniques Targeting FPGA Devices

Low-Power Circuits for Emerging Applications in Communications, Computing, and Sensing, DOI: https://doi.org/10.1201/9780429507564

Towards Plug&Play Smart Thermostats for Building's Heating/Cooling Control

In: Siozios K., Anagnostos D., Soudris D., Kosmatopoulos E. (eds) IoT for Smart Grids. Power Systems. Springer, Cham

&nbsp

BibTeX

@Inbook{Marantos2019, author="Marantos, Charalampos and Lamprakos, Christos and Siozios, Kostas and Soudris, Dimitrios", editor="Siozios, Kostas and Anagnostos, Dimitrios and Soudris, Dimitrios and Kosmatopoulos, Elias", title="Towards Plug{\&}Play Smart Thermostats for Building's Heating/Cooling Control", bookTitle="IoT for Smart Grids: Design Challenges and Paradigms", year="2019", publisher="Springer International Publishing", address="Cham", pages="183--207", abstract="Buildings are immensely energy-demanding and this fact is enhanced by the expectation of even more increment of energy consumption in the near future, while the building's cooling and heating has a significant impact on the overall energy consumption (around 40{\%}). Therefore it is necessary to find proper ways for mitigating the increasing energy cost of HVAC systems (Heating Ventilation and Air Conditioning). The problem of increased energy requirements becomes far more crucial by taking into consideration the sub-optimal operation of HVAC systems by the occupants. In order to alleviate these drawbacks, throughout this chapter we introduce a decision-making mechanism in order to support the temperature control within buildings. For this purpose, a smart thermostat concept is applied, where emphasis is given to lowering the cost and deployment flexibility, in order to be widely adopted in different buildings and regions. The proposed mechanism incorporates supervised learning and reinforcement learning techniques in order to solve a multi-objective problem that comprises both satisfying occupant's thermal comfort and minimize energy consumption.", isbn="978-3-030-03640-9", doi="10.1007/978-3-030-03640-9_10", url="https://doi.org/10.1007/978-3-030-03640-9_10" }

"On Designing Decision-Making Mechanisms for Cyber-Physical Systems" in Book "Cyber-Physical Systems: Decision Making Mechanisms and Applications"

River Publishers. 2017

"PReDiCt: A Scenario-based Methodology for Realizing Decision-Making Mechanisms Targeting Cyber-Physical Systems" in Book "Cyber-Physical Systems: Decision Making Mechanisms and Applications"

River Publishers. 2017

Panayiotis Danassis ,
C. Korkas ,
Elias Kosmatopoulos and

"Supporting Decision Making for Large-Scale IoTs: Trading Accuracy with Computational Complexity", in Book "Components and Services for IoT Platforms: Paving the Way for IoT Standards"

Editors Nikolaos Voros, Georgios Keramidas and Michael Hübner, Springer, 2017

"Architectures and CAD Tools for 3D FPGAs," in Book "Reconfigurable Logic: Architecture, Tools and Applications,"

CRC Press, 2015

"A Temperature-Aware Placement and Routing Algorithm Targeting 3D FPGAs", Book Chapter in "VLSI-SOC: Design Methodologies for SoC and SiP,"

Piguet, R. Reis, and D. Soudris (Eds.): VLSI-SoC 2008, IFIP AICT 313, pp. 251–270, Springer, Dordrecht/London/Boston, Feb. 2010

"Three Dimensional Network-on-Chip Architectures," Chapter 2, in "Networks-on-Chips: Theory and practice"

CRC Press, 2008

Konstantinos Tatas ,
G. Koutroumpezis ,
Spyridon Nikolaidis ,
Stylianos Siskos ,
N. Vasiliadis ,
V. Kalenteridis ,
H. Pournara and
I. Pappas

"AMDREL: A Novel Low-Energy FPGA Architecture and Supporting CAD Tool Design Flow", Chapter 3 in "Fine and Coarse-Grain Reconfigurable Systems"

Editors: S. Vassiliadis and D. Soudris, Springer, 2007

"Survey of Fine-Grain Reconfigurable Architectures and Processors", Chapter 1 in "Fine- and Coarse-Grain Reconfigurable Systems"

Editors: S. Vassiliadis and D. Soudris, Springer, 2007
Design and Performance-Power Analysis of Multi-Layer Perceptrons (MLPs) and Convolutional Neural Networks (CNNs ) on FPGAs through Multiple Design Flows

A Stochastic Implementation of an Option Price Estimator on FPGA

Ανάπτυξη και υλοποίηση αλγορίθμου τοποθέτησης (placement) για αρχιτεκτονικές FPGA

Ανάπτυξη και υλοποίηση αλγορίθμου τμηματοποίησης (partitioning) για τρισδιάστατες (3D) αρχιτεκτονικές

Ανάπτυξη και υλοποίηση αλγορίθμου δρομολόγησης (routing) για τρισδιάστατες (3D) αρχιτεκτονικές
Design and Performance-Power Analysis of Multi-Layer Perceptrons (MLPs) and Convolutional Neural Networks (CNNs ) on FPGAs through Multiple Design Flows

A Stochastic Implementation of an Option Price Estimator on FPGA

Ανάπτυξη και υλοποίηση αλγορίθμου τοποθέτησης (placement) για αρχιτεκτονικές FPGA

Ανάπτυξη και υλοποίηση αλγορίθμου τμηματοποίησης (partitioning) για τρισδιάστατες (3D) αρχιτεκτονικές

Ανάπτυξη και υλοποίηση αλγορίθμου δρομολόγησης (routing) για τρισδιάστατες (3D) αρχιτεκτονικές