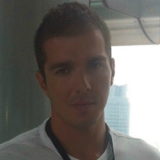 Postdoctoral Researcher
9 Heroon Polytechneiou, Zographou Campus
High-performance computer engineer with over 10 years of experience in run-time scheduling for the use of advanced real time applications, researching performance reliability and dependability techniques of the
next generation embedded and HPC platforms. Disciplined in designing scenario methodologies for hard-deadline systems, developing decision-making techniques to manage system resources, and deploying
tools to support applications for state-of-the art high data rate applications. An open-minded individual who enjoys going the extra mile to drive results with advanced team guidance, problem solving and time
management skills. Core Core competencies, academics and experience encompass.
Books

Panagiota Nikolaou ,
Panagiotis Englezakis ,
Zacharias Hadjilambrou ,
Lorena Ndreu ,
Giuseppe Massari ,
Simone Libutti ,
Antoni Portero ,
Federico Sassi ,
Alessandroy Bacchini ,
Chrysostomos Nicopoulos ,
Yiannakis Sazeides ,
Radim Vavrik ,
Martin Golasowski ,
Jiri Sevcik ,
Vit Vondrak ,
Agnes Fritsch ,
Francky Catthoor ,
William Fornaciari and

The HARPA approach to ensure dependable performance

Harnessing Performance Variability in Embedded and High-performance Many/Multi-core Platforms: A Cross-layer Approach DOI: 10.1007/978-3-319-91962-1_1
Book Chapters

Y. H. Yassin ,
P. G. Kjeldsberg and
Francky Catthoor

DVFS-oriented scenario applications to processor architectures

System-Scenario-based Design Principles and Applications, 2019, DOI: 10.1007/978-3-030-20343-6_4

Dimitris Rodopoulos ,
Francky Catthoor and

System scenario application to dependable system design

System-Scenario-based Design Principles and Applications, 2019, DOI: 10.1007/978-3-030-20343-6_7

Dimitris Rodopoulos ,
Francky Catthoor and

"HARPA RT," book chapter in "Harnessing Performance Variability in Embedded and High-performance Many/Multi-core Platforms – A Cross-layer Approach"

Springer Publishers

"PReDiCt: A Scenario-based Methodology for Realizing Decision-Making Mechanisms Targeting Cyber-Physical Systems" in Book "Cyber-Physical Systems: Decision Making Mechanisms and Applications"

River Publishers. 2017

Panayiotis Danassis ,
C. Korkas ,
Elias Kosmatopoulos and

"Supporting Decision Making for Large-Scale IoTs: Trading Accuracy with Computational Complexity", in Book "Components and Services for IoT Platforms: Paving the Way for IoT Standards"

Editors Nikolaos Voros, Georgios Keramidas and Michael Hübner, Springer, 2017

"Efficient System Configurations for Dynamic Applications in Next Generation Mobile Communication Systems" Book Chapter in "Handbook of Research on Next Generation Mobile Communication Systems"

IGI Global, A volume in the Advances in Wireless Technologies and Telecommunication (AWTT) Book Series
Journals

Dimitris Rodopoulos ,
Francky Catthoor and

Runtime slack creation for processor performance variability using system scenarios

ACM Transactions on Design Automation of Electronic Systems DOI: 10.1145/3152158

Dimitris Rodopoulos ,
Francky Catthoor and

Run Time Slack Creation for Processor Performance Variability using System Scenarios Consistent

ACM Trans. on Design Automation of Electronic Systems(TODAES), Vol. 23, No. 2, Article 24, December 2017

Alexandros Bartzas ,
Francky Catthoor and

System Scenarios-based Architecture Level Exploration of SDR Application using a Network-on-Chip Simulation Framework

MICRO: Microprocessors and Microsystems, 2013, Elsevier, Volume 37, Issues 6–7, August–October 2013

Antonis Papanikolaou ,
P. Raghavan ,
Francky Catthoor

Enabling Efficient System Configurations For Dynamic Wireless Applications Using System Scenarios

International Journal of Wireless Information Networks, Springer Publishers, 2012
Conferences

Dimitris Rodopoulos ,
Francky Catthoor and

Energy Efficient Adaptive Approach for Dependable Performance in the presence of Timing Interference

in GLSVLSI , 2017

Lorena Ndreu ,
Zacharias Hadjilambrou ,
Panagiotis Englezakis ,
Panagiota Nikolaou ,
Antoni Portero ,
Simone Libutti ,
Giuseppe Massari ,
Federico Sassi ,
Alessandroy Bacchini ,
Chrysostomos Nicopoulos ,
Yiannakis Sazeides ,
Radim Vavrik ,
Martin Golasowski ,
Jiri Sevcik ,
Vit Vondrak ,
Francky Catthoor ,
William Fornaciari and

HARPA: Tackling Physically Induced Performance Variability

in Proc. of 20th Design Automation & Testing Exhibition (DATE), 2017

Ioannis Lagoudis ,
Ioannis Theotokas and

Scenario Modeling of Containership Liner-Shipping Operation Scheduling

in European Conference on Shipping, Intermodalism & Ports (ECONSHIP), 2015

Antonis Papanikolaou ,
Praveen Raghavan ,
Francky Catthoor

Εnabling Efficient System Configurations For Dynamic Wireless Baseband Engines Using System Scenarios

in Procedings of IEEE Workshop on Signal Processing Systems (SIPS), 2011

Alexandros Bartzas ,
Georgios Pavlos

Dynamic Frequency Scaling for MPSoCs based on Chaotic Workload Analysis

in PARMA Workshop Parallel Programming and Run-time Management Techniques for Many-core Architectures, 2010

Martin Trautmann ,
Alexandros Bartzas ,
Stylianos Mamagkakis ,
Liesbet Van der Perre and
Francky Catthoor

Multi-granularity NoC Simulation Framework for Early Phase Exploration of SDR Hardware Platforms

in Proc. of 19th Inter. Workshop on Power and Timing, Modeling, Optimization, and Simulation (PATMOS), 2009

Christos Baloukas ,
Konstantinos Potamianos and
Nikolaos Voros

Dynamic Data Structure Exploration of Dynamic Applications

in Proc. of PACT 2007, The Sixteenth International Conference on Parallel Architectures and Compilation Techniques (PACT), 2007

Implementing Cellular Automata Modeled Applications into Network-on-Chip Platform

in Proc. of VLSI-SOC, IFIP Int. Conference on Very Large Scale Integration, 2007

Optimal Data Structure Exploration for Multimedia and Network Applications in Embedded Systems

in IC-SAMOS - International Conference on Embedded Computer Systems: Architectures, Modeling, and Simulation (SAMOS), 2007
Workshops

Martin Trautmann ,
Alexandros Bartzas ,
Stylianos Mamagkakis ,
Liesbet Van der Perre and
Francky Catthoor

Multi-granularity NoC simulation framework for early phase exploration of SDR platforms

in Workshop Designing for embedded parallel computing platforms: architectures, tools, and applications, Friday 24th April, Nice, France